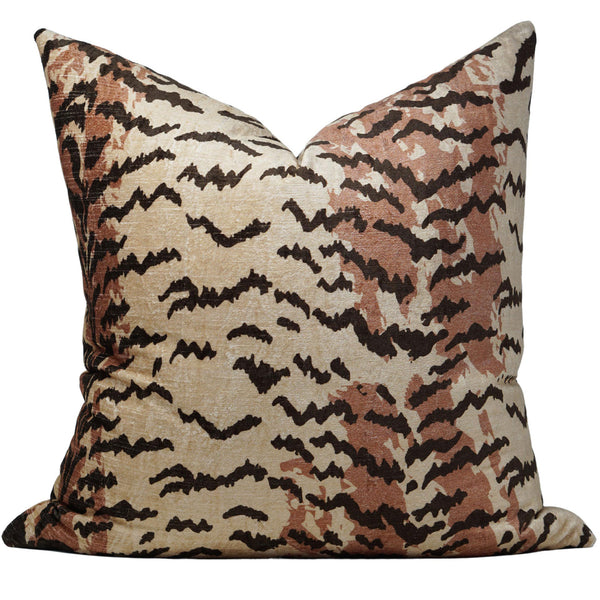 Bengal Velvet Pillow Cover in Tawny

Description

Details

Inserts

Shipping & Returns
These classic tiger stripes are anything but boring. The colors and stripes harken a 70's vibe that highlight arguably the boldest and greatest decade for decor. Use this piece for your nostalgic dreams without having to add shag to your walls or floors. The tawny colors will pair perfectly with avocado green, burnt orange, and harvest gold.
Bengal is printed on a polyester velvet textile with a slight shimmery, crushed appearance.
For color and scale references, order a complimentary sample of this fabric here.
100% Polyester
Cover Only - Insert Sold Separately
Knife Edge
Spot Clean Only
Heavy Duty Brass Zipper
Pattern Placement Will Vary
Our Down Alternative pillow inserts are available separately for purchase here. When purchasing a pillow cover, we recommend sizing down 2" from your insert for extra fullness. For instance, if you have a 24" insert, we recommend purchasing a 22" pillow cover.
Ready-to-Ship pillow covers will ship out within 2-3 business days and custom-made pillow covers around 7-10 business days. All art prints ship direct from our fine-arts printer. Please allow around 7 business days for art prints to ship out.
*Free Shipping on orders over $100 is eligible for all products except for our down-alternative pillow inserts
To make a return, please contact us at hello@posthouseco.com within 7 days of receiving your order. Returned merchandise must be in original, unused (and unwashed) condition. We do not refund any shipping charges. Return shipping fees are the responsibility of the customer and original shipping charges to you will be deducted from your refund.
For returns we can send you a return shipping label, where the shipping fees will be deducted from your refund, or you may ship via your own preferred carrier.
Custom made pillow covers, art prints, and cut fabric are not eligible for refunds.
If you would like a fabric sample before purchasing, we will be more than happy to send you a complementary sample.
For additional information, please click here
Close (esc)
Popup
Use this popup to embed a mailing list sign up form. Alternatively use it as a simple call to action with a link to a product or a page.
Age verification
By clicking enter you are verifying that you are old enough to consume alcohol.